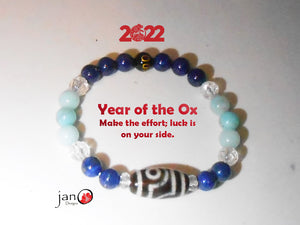 The 2022 Feng Shui DZI Recommendation is courtesy of May Hinazumi, Feng Shui Consultant, The Joy of Feng Shui LLC.  May has been practicing Feng Shui for the over 15 years and brings a different element to the Art of Feng Shui.  Gifted with the ability to channel with her Intuitive Guides, she gives a differing perspective to assisting people with their spiritual needs.  To further explore your 2022 Feng Shui prediction, contact The Joy of Feng Shui at 808-330-7758 or info@joyoffengshui.com. 
Prediction:
Effort is the fuel, luck is the car. The car looking like a million dollars cannot run without fuel and is only a stagnant piece of pretty metal. If you just sit waiting for things to happen, then that's as far as you'll get.
Relationships in your love life is blessed, especially if you're a single. Relationships in your professional life encourages meeting new people and boosting up your customer, client and even fan base.
Avoid lending money to others or making major investments, but there is a steady gain in wealth so maintain a balance of money flowing in and money going out.
Watch your health. Avoid illness by a health regimen and going to all routine check-ups.
Agitation and anxiety bring emotional anguish if you let it.
The DZI is viewed as a living gemstone meant for worship, passing down over generations.  The ancient DZI was thought to absorb cosmic energy from the universe, guarding against misfortune and bringing blessings.  It is revered as a sacred charm for protection, worship, health and a symbol of wealth.
The 2 eyed Dzi enables harmony between husband and wife; build a happy family, successful career, and good relationships with others. (https://owlcation.com/social-sciences/The-Myth-and-Mystery-of-Tibetan-Dzi-Stone-Beads)
The following gemstones will assist the Ox with an attitude of urgency and improving relationships:
Amazonite
Amazonite is a soothing stone.  It calms the brain and nervous system and aids in maintaining optimum health.  Balances the masculine and feminine energies.  Amazonite helps you to see both sides of a problem or different points of view.  It soothes emotional trauma, alleviating worry and fear.  Dispels negative energy, aggravation and blockages within the nervous system.  Amazonite assists in manifesting universal love.  It protects against electromagnetic pollution and absorbs microwaves.
Amazonite is beneficial in osteoporosis, tooth decay, calcium deficiency and calcium deposits.  It relieves muscle spasms.  (https://www.charmsoflight.com/amazonite-healing-properties)
Lapis
A stone of protection that may be worn to guard against psychic attacks, Lapis Lazuli quickly releases stress, bringing deep peace.  It brings harmony and deep inner self-knowledge.  Encourages self-awareness, allows self-expression and reveals inner truth, providing qualities of honesty, compassion and morality to the personality.  Stimulates objectivity, clarity and encourages creativity.  Lapis Lazuli assists to confront and speak one's truth and inspires confidence.  It bonds relationships, aiding in expression of feelings and emotions.
Lapis Lazuli boosts the immune system, purifies blood, lowers blood pressure, cooling and soothing areas of inflammation.  It alleviates insomnia and vertigo, and overcomes depression.  Lapis Lazuli benefits the respiratory and nervous systems and the throat, vocal cords, and thyroid, cleanses organs, bone marrow and thymus.  (https://www.charmsoflight.com/lapis-lazuli-healing-properties)
Clear Quartz
Awareness • Amplifying Energy • Clarity
Quartz is a panacea among crystals, used for its powerful purifying effects. The purity of this crystal destroys all negative energy around it and stores positive intentions, thoughts, and other important vibrations. It helps clear your mind, and allows you to focus with renewed inspiration on the most positive aspects of your life.  https://www.lifehack.org/469922/10-crystals-for-positive-energy-happiness
All crystals have vibrations with a unique energy.  The gentle energies of the different gemstones used in the Feng Shui Bracelets work together to address the 2019 Predictions.
Crystal therapy is a gentle non-invasive form of alternative healing that works holistically to harmonize the mind, body, emotions and spirit, helping to increase our feeling of well-being, neutralize negativity, lift depression and to help us become integrated, whole beings.
The actual product you receive may not be exactly the same as the illustration.  Your jewelry is handcrafted upon order.  While the Recipe remains the same, the actual gemstones may differ and is dependent upon availability at the time of purchase.  During a high demand period, please allow an extra 10 days for your bracelet to be crafted.
When ordering, please indicate the size of your wrist plus 1/2".  Your bracelet will be custom made to fit your wrist.
No claims are being made in this statement. Information provided has been gathered from writings, books and the internet. DO NOT use as a substitute for medication.
Guidelines for Cleansing Your Bracelet