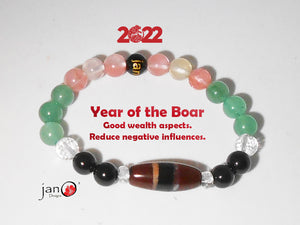 The 2022 Feng Shui DZI Recommendation is courtesy of May Hinazumi, Feng Shui Consultant, The Joy of Feng Shui LLC.  May has been practicing Feng Shui for the over 15 years and brings a different element to the Art of Feng Shui.  Gifted with the ability to channel with her Intuitive Guides, she gives a differing perspective to assisting people with their spiritual needs.  To further explore your 2022 Feng Shui prediction, contact The Joy of Feng Shui at 808-330-7758 or info@joyoffengshui.com. 
Prediction:
Tranquility and calmness within all the chaos, will help life be more peaceful.
Opportunities at work for promotion or a step up in salary.
Doing meaningful things with family will activate happiness. Create lasting memories.
Good wealth aspects, including return on investments.
Disputes, slander and arguments could put a dent in relationships. Watch the sharp tongue.
Negative influences may impact your reputation, your investments and if you're a business owner, your cash-based things may go missing throughout the year.
The DZI is viewed as a living gemstone meant for worship, passing down over generations.  The ancient DZI was thought to absorb cosmic energy from the universe, guarding against misfortune and bringing blessings.  It is revered as a sacred charm for protection, worship, health and a symbol of wealth.
It is believed that stripes or bands on a DZI will help the wearer to achieve ones aspirations. This stripes are also used in combination with other patterns.  (https://www.buddhist-malas.com/dzi-meaning.html)
The following gemstones will assist the Boar with calmness, warding off negative influences and good wealth aspects:
Aventurine
Aventurine is a stone of prosperity.  It reinforces leadership qualities and decisiveness.  Promotes compassion and empathy.  Encourages perseverance.  Aventurine relieves stammers and severe neuroses.  It stabilizes one's state of mind, stimulates perception and enhances creativity.  Aids in seeing alternatives and possibilities.  Calms anger and irritation.  Promotes feelings of well-being.  Aventurine balances male-female energy.  It encourages regeneration of the heart.  Protects against environmental pollution.
Aventurine benefits the thymus gland and nervous system.  It balances blood pressure and stimulates the metabolism, lowering cholesterol.  Aventurine has an anti-inflammatory effect and eases skin eruptions, allergies, migraines, and soothes the eyes.  It heals lungs, sinuses, heart, muscular and urogenital systems.  (https://www.charmsoflight.com/aventurine-healing-properties)
Black Onyx
Onyx gives strength.  It promotes vigor, steadfastness and stamina.  Imparts self-confidence, helping you to be at ease in your surroundings.  Onyx banishes grief, enhances self-control and stimulates the power of wise decision-making.  It encourages happiness and good fortune.
Onyx treats disorders of the bones, bone marrow and blood.  It is beneficial for teeth and the feet.  (https://www.charmsoflight.com/onyx-healing-properties)
Watermelon Tourmaline
Watermelon Tourmaline lightens your mood by infusing you with blissful feelings!  They enhance the growth of joy and happiness in your life and help to lift you emotionally.  These beautiful stones embody a strong heart based energy that helps you to let go of stress, tension and fear.  They help to promote friendship and loving relationships and are quite beautiful to look at as well.  These wonderful stones awaken the heart and higher heart chakras, which encourages the growth of compassion, forgiveness and the release of fear.  (https://www.healing-crystals-for-you.com/watermelon-tourmaline.html)
Clear Quartz
Awareness • Amplifying Energy • Clarity
Quartz is a panacea among crystals, used for its powerful purifying effects. The purity of this crystal destroys all negative energy around it and stores positive intentions, thoughts, and other important vibrations. It helps clear your mind, and allows you to focus with renewed inspiration on the most positive aspects of your life.  https://www.lifehack.org/469922/10-crystals-for-positive-energy-happiness
When ordering, please indicate the size of your wrist plus 1/2".  Your bracelet will be custom made to fit your wrist.
Guidelines for Cleansing Your Bracelet