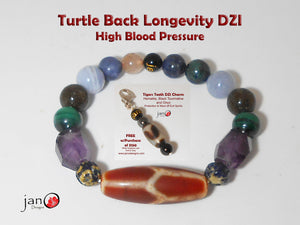 The High Blood Pressure Bracelet utilizes the energies of the various gemstones such as Amethyst, Chalcedony and Lapis to assist with lowering blood pressure. For the person with High Blood Pressure, this is a must-have.  This bracelet feature a large Lapis nugget with carved Amethyst from India.
Crystals have a long tradition of being used for crystal healing. Each variety of crystal has a unique internal structure, which causes it to resonate at a certain frequency. It is this resonance that is said to give crystals their healing abilities. Applying this resonance in a coherent way can help to restore stability and balance to the body's energy system, stimulating its natural healing mechanisms.
Crystal therapy is a gentle non-invasive form of alternative healing that works holistically to harmonize the mind, body, emotions and spirit, helping to increase our feeling of well-being, neutralize negativity, lift depression and to help us become integrated, whole beings.
The DZI is viewed as a living gemstone meant for worship, passing down over generations.  The ancient DZI was thought to absorb cosmic energy from the universe, guarding against misfortune and bringing blessings.  It is revered as a sacred charm for protection, worship, health and a symbol of wealth.
 Prolong life; improve health / healing and avoidance of sickness and disease. Patience and divine intercessions for good health.
The tortoise is one of the four celestial animals (Dragon, Phoenix, Tiger and Tortoise) in Feng Shui practice. Tortoises are as essential as dragons. It is the greatest sign of longevity, stability, steadiness, good fortune, support and protection. The turtle-back dzi is for cultivating good health, leading to longevity and strengthening determination in work accomplishment.
 It renders protection from sickness caused by weakness, spirits & gives bodily protection. It is believed that the turtle back dzi is able to protect the wearer from diseases and famine. Furthermore, the dzi is believed to be able to promote speedy recovery. This talisman will bring curative energies for those who have poor health, are often sick and suffer from long term illness. It would also be best for people who are growing old because this talisman promotes longevity. Besides, this ultimate symbol from the celestial tortoise's shell would also provide protection against injuries, harm and damages.
The actual product you receive may not be the same as the illustration.  Your jewelry is handcrafted upon order.  While the Recipe remains the same, the actual gemstones may differ.  This bracelet measures 8.5".  Please indicate the size of your wrist when ordering.
The free Tigers Teeth DZI key charm is for protection and warding off evil spirit.  Minimum purchase is $150 and supplies are limited to stock on hand.  Value of Key charm is $50.
No claims are being made in this statement. Information provided has been gathered from writings, books and the internet. DO NOT use as a substitute for medication.
Guidelines for Cleansing Your Bracelet