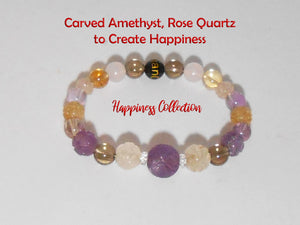 Want more happiness in your life?  The carved Amethyst is surrounded by gemstones that create happiness.  One-of-a-kind design makes it just a little more special...
Carved Amethyst
Amethyst is a powerful and protective stone.  It guards against psychic attack, transmuting the energy into love and protecting the wearer from all types of harm, including geopathic or electromagnetic stress and ill wishes from others.  Amethyst is a natural tranquilizer, it relieves stress and strain, soothes irritability, balances mood swings, dispels anger, rage, fear and anxiety.  Alleviates sadness and grief, and dissolves negativity.  Amethyst activates spiritual awareness, opens intuition and enhances psychic abilities.  It has strong healing and cleansing powers.  Amethyst encourages sobriety, having a sobering effect on overindulgence of alcohol, drugs or other addictions.  It calms and stimulates the mind, helping you become more focused, enhancing memory and improving motivation.  Amethyst assists in remembering and understanding dreams.  It relieves insomnia.  Encourages selflessness and spiritual wisdom.
Amethyst boosts hormone production, tunes the endocrine system and metabolism.  It strengthens the immune system, reduces pain and strengthens the body to fight against cancer. It destroys malignant tumors and aids in tissue regeneration.  Cleanses the blood.  Relieves physical, emotional and psychological pain or stress.  Amethyst eases headaches and releases tension.  It reduces bruising, swellings, injuries, and treats hearing disorders.  Amethyst heals diseases of the lungs and respiratory tract, skin conditions, cellular disorders and diseases of the digestive tract.  (https://www.charmsoflight.com/amethyst-healing-properties) 
Ametrine 
Ametrine calms the mind by clearing stress and tension from the head.  Balances and soothes emotions and relieves depression.  Ametrine overcomes prejudice by enhancing compatibility and acceptance of others.  It stimulates creativity and supports taking control of one's own life.  Strengthens concentration, bringing clarity, and harmonizing perception and action.  Ametrine instigates change and eases transition. 
Ametrine strengthens the immune system and aids the autonomic nervous system.  It heals physical, mental and emotional exhaustion.  Alleviates allergies and digestive disorders.  (https://www.charmsoflight.com/ametrine-healing-properties)
Smokey Quartz
Smoky quartz transmutes negative energy and acts as a protective shield against unwanted energy. It helps you to let go of old patterns and belief systems that are holding you back. It releases all blocked, old and stagnant energy in the body. Once all of your old energy is removed, new energy is able to fill the open space with light and hope.  (https://www.mindbodygreen.com/0-14044/10-crystals-that-will-make-you-healthier-happier.html)
Rose Quartz
Rose quartz is a stone of unconditional love that helps to open and heal the energy of the heart. It encourages the forgiveness of others and, most importantly, of yourself. The secret to finding true love is to love yourself. Rose quartz emits vibrations of love, beauty and compassion. It's a feel-good stone that nurtures, supports and allows you to feel the most powerful energy in the universe: LOVE.  (https://www.mindbodygreen.com/0-14044/10-crystals-that-will-make-you-healthier-happier.html)
Citrine
Citrine is a crystal of light and happiness. It doesn't hold any negative energy and emits large amounts of positive energy. It serves as a friendly reminder to be present and in the now, because in this moment, you can create miracles. Citrine is a manifestation stone that encourages you to dream big, maintain a positive state of mind and attract everything you want in your life.  (https://www.mindbodygreen.com/0-14044/10-crystals-that-will-make-you-healthier-happier.html)
Crystals have a long tradition of being used for crystal healing. Each variety of crystal has a unique internal structure, which causes it to resonate at a certain frequency. It is this resonance that is said to give crystals their healing abilities. Applying this resonance in a coherent way can help to restore stability and balance to the body's energy system, stimulating its natural healing mechanisms.
Crystal therapy is a gentle non-invasive form of alternative healing that works holistically to harmonize the mind, body, emotions and spirit, helping to increase our feeling of well-being, neutralize negativity, lift depression and to help us become integrated, whole beings.
The actual product you receive will be the same as the illustration.  There is only 1 available, therefore, please send a message with your order on the size of your wrist plus 1/2".  The bracelet in the photo is 7.5".
No claims are being made in this statement. Information provided has been gathered from writings, books and the internet. DO NOT use as a substitute for medication.