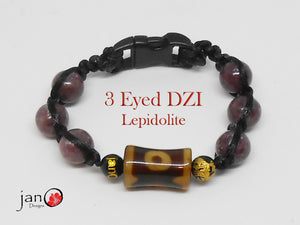 The DZI is viewed as a living gemstone meant for worship, passing down over generations. The ancient DZI was thought to absorb cosmic energy from the universe, guarding against misfortune and bringing blessings. It is revered as a sacred charm for protection, worship, health and a symbol of wealth.

These DZI beads are the manifestation of the Tibetan Wealth God. They are an emblem of longevity and joy, as well as abundance in affluence. For those who need some life-changing events, the Three Eyed DZI Beads is said to provide you with good fortune luck and balance out your body's chi.

Lepidolite:
A "stone of transition", Lepidolite assists in the release and reorganization of old behavioral and psychological patterns, gently inducing change. It brings deep emotional healing, soothing and reducing stress and depression. Lepidolite dissipates negativity and insists on being used for the highest good. It activates the throat, heart, third eye chakras and the intellect. It opens the crown chakra, clearing blockages and bringing cosmic awareness. Lepidolite facilitates astral travel and accesses the Akashic Record. It helps to take you forward into the future, tuning you in to thoughts and feelings from other lives that are creating a blockage in your life now.

Lepidolite aids in overcoming any kind of emotional or mental dependency, supporting in the release of addictions and complaints of all kinds, including anorexia. It encourages independence and self-love and trust. Lepidolite combines its power of objectivity with direction and unimpeded communication, focusing on what is important and making it an excellent stone for business pursuits.

Lepidolite clears electromagnetic pollution. Strengthens the immune system, soothes the nervous system and can be used to restructure DNA. Lepidolite relieves exhaustion and aids in the relief of tension and related disorders. It can relieve allergies and greatly help with epilepsy and Alzheimers. It numbs sciatica and neuralgia and overcomes joint problems. Lepidolite stabilizes mood swings and is excellent for the menopause. It treats illnesses caused by "sick-building syndrome" or computer stress. Excellent for bipolar disorders.
(https://www.charmsoflight.com/lepidolite-healing-properties)
Crystals have a long tradition of being used for crystal healing. Each variety of crystal has a unique internal structure, which causes it to resonate at a certain frequency. It is this resonance that is said to give crystals their healing abilities. Applying this resonance in a coherent way can help to restore stability and balance to the body's energy system, stimulating its natural healing mechanisms.
Crystal therapy is a gentle non-invasive form of alternative healing that works holistically to harmonize the mind, body, emotions and spirit, helping to increase our feeling of well-being and reduce pain caused by inflammation.
The actual product you receive may not be exactly the same as the illustration. Your jewelry is handcrafted upon order.  While the Recipe remains the same, the actual gemstones may differ and is dependent upon availability at the time of purchase.  The 3 Eyed DZI is 7/8" x 5/8".  The Lepidolite beads are 12mm in size.  
Please send a message with your exact wrist size.  Your bracelet will be custom made especially for you.
No claims are being made in this statement. Information provided has been gathered from writings, books and the internet. DO NOT use as a substitute for medication.