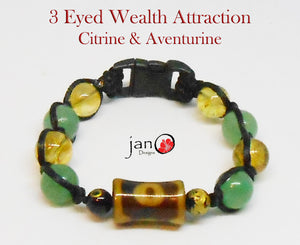 3 Eyed DZI
Prosperity, Happiness and Longevity. Receive blessings from wealth god of Tibet. Ability to see opportunity and obtain it.
Symbolizes rolling in heavy wealth. The 3-Eyed dzi is said to be the manifestation of the expression of the Hindu wealth god, the "Kubera". He originates from the Himalayas, but is worshiped by other Buddhists as well from around the world.
In Tibet, he is known as "Jambala". Two eyes represent his eyes and the other one is his mouth. Having performed austerities for a thousand years, in regard for which Brahma asked him to safeguard and distribute evenly the treasures of the earth by karmic rewards. Enables one to connect to all 3 key components i.e. Body, Mind & Heart. Achieve good health, happiness & wealth.
Among the dzi culture, the 3-Eyed Dzi is regarded as the unofficial "wealth". This dzi is believed to still possess the power to make conditions favorable, for which the owner enjoys general fortune, not only in terms of wealth, but also great happiness and prosperity. It will enhance its owner's ability to accumulate wealth by crystallizing money-making opportunities for him. It represents the three stars of luck including longevity with health and continuous fortune.

Citrine
Citrine energizes every level of life. It cleanses the chakras and opens the intuition. Citrine attracts wealth, prosperity and success. It imparts joy, wonder, delight and enthusiasm. Raises self-esteem and self-confidence. Stimulates the brain, strengthening the intellect. Citrine promotes motivation, activates creativity and encourages self-expression. Enhances concentration and revitalizes the mind. It releases negative traits, depression, fears and phobias. Emotionally balancing.  Energizing and recharging, Citrine also reverses degenerative disease and helps balance chemical imbalances in the body. Beneficial in the treatment of diabetes, it stimulates digestion, the spleen and pancreas. Negates kidney and bladder infections. Citrine helps eye problems, increases blood circulation, detoxifies the blood, activates the thymus and balances the thyroid. Relieves constipation and removes cellulite.

Aventurine
Aventurine is a stone of prosperity. It reinforces leadership qualities and decisiveness. Promotes compassion and empathy. Encourages perseverance. Aventurine relieves stammers and severe neuroses. It stabilises one's state of mind, stimulates perception and enhances creativity. Aids in seeing alternatives and possibilities. Calms anger and irritation. Promotes feelings of well-being. Aventurine balances male-female energy. It encourages regeneration of the heart. Protects against environmental pollution.
Aventurine benefits the thymus gland and nervous system. It balances blood pressure and stimulates the metabolism, lowering cholesterol. Aventurine has an anti-inflammatory effect and eases skin eruptions, allergies, migraines, and soothes the eyes. It heals lungs, sinuses, heart, muscular and urogenital systems.
All crystals have vibrations with a unique energy.  The gentle energies of the different gemstones used in the wealth attraction bracelet works together to change your aura and attract wealth opportunities.  The Bracelet is not about luck.  The Wealth Bracelet is intended for use on a daily basis.  Many of the Las Vegas travelers use the Wealth Attraction Jewelry.  Please note that although many have experienced positive experiences, results are not guaranteed.
Crystal therapy is a gentle non-invasive form of alternative healing that works holistically to harmonize the mind, body, emotions and spirit, helping to increase our feeling of well-being, neutralize negativity, lift depression and to help us become integrated, whole beings.
The actual product you receive may not be exactly the same as the illustration.  Your jewelry is handcrafted upon order.  While the Recipe remains the same, the actual gemstones may differ and is dependent upon availability at the time of purchase.  The bracelet is corded and custom fit to your wrist size.  Please send a message with your actual wrist size when purchasing this item.
No claims are being made in this statement. Information provided has been gathered from writings, books and the internet. DO NOT use as a substitute for medication.
Guidelines for Cleansing Your Bracelet